MANY TRIBES.   ONE JUNGLE.
JOIN APE RIDES・BRINGING APES TOGETHER・SHARING ONE JUNGLE・#ApeRidesNFT #OneJungle #ApeNFTs #DAO
U P G R A D E  Y O U R  A P E  ・  G I V E  I T  A  R I D E
5,000 RIDES ・LAUNCHING FOR 8+ APE NFT COLLECTIONS WITH FULL BODY ARTWORK FOR 100k+ APES・EVER GROWING・NO END IN SIGHT
5,000 Ape Rides made to fit any Ape NFT collection and bring Apes together. Enhanced with full body artwork, Your Ape NFT is your entry ticket to Ape Rides no matter what tribe it belongs to. At launch the first 100,000 Apes from 10 of the leading collections are ready to hop straight on to any Ape Ride. Ape + Ride = Ape Rider. Are you ready?
We're launching with you:
The core of Ape Rides are 5,000 hand-drawn Ape Rides NFTs, made from 50 different types of vehicles or modes of transportation, enriched with unique combinations of traits. Each ride will also have non-visible properties, manifested in the metadata – think of it like a metaverse version of Trading Card Games which will allow a gamified ecosystem, competitions, Apes teaming up across tribes, and much more. Rides will be minted in a random order, reveal will happen after mint.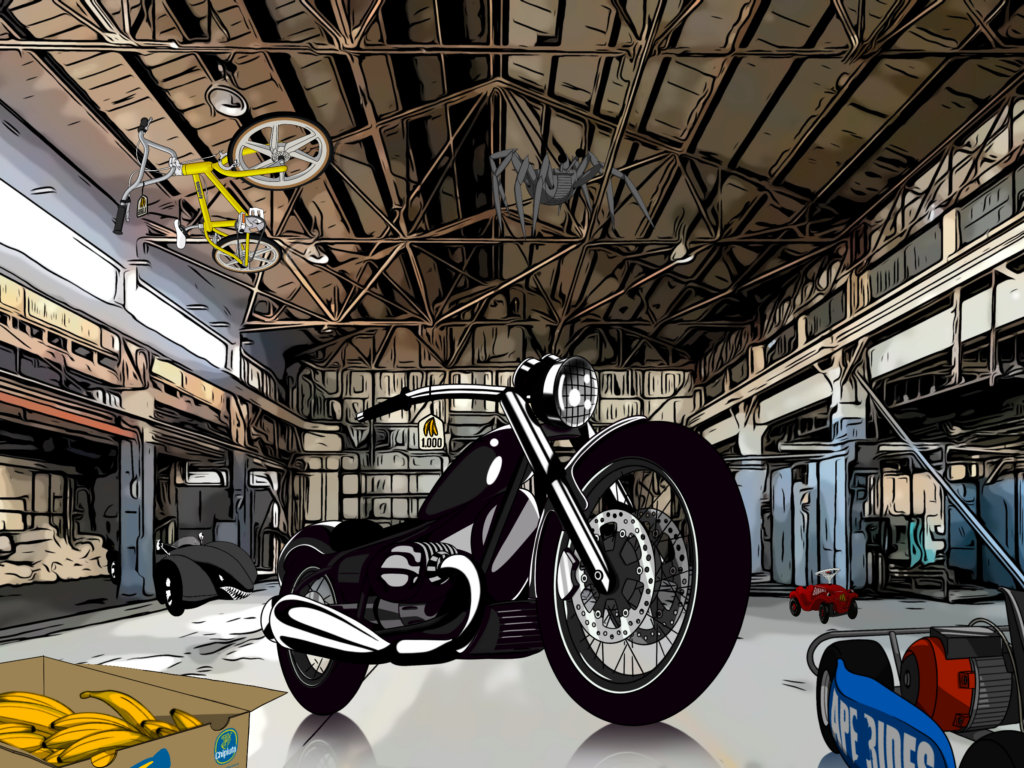 Ape Rides are designed for an unlimited number of NFT collections, and already at launch every Ape from the first eight tribes will be eligible. It also means that all bodies for these 100,000 Apes have already been hand-drawn, so we can focus on further growth right after mint. We don't alter your original Ape NFT profile picture, nor do we change its background. We meticulously complete the body for it, all furs, clothes, laser or beams, in multiple positions.
500 MILLION+ Combinations
Your Ape NFT + your Ape Rides NFT = your Ape Rider NFT. 500 Million combinations will be possible from day one, with lots more to come. 
All you need is an Ape Ride and an Ape from any of the eligible collections in one wallet, and we have an easy process for you to put your Ape on your Ride without exposing your assets to any risk. Select an Ape, select a Ride, and within seconds, you will see the result. And if you like it, you can mint that very image as a new NFT.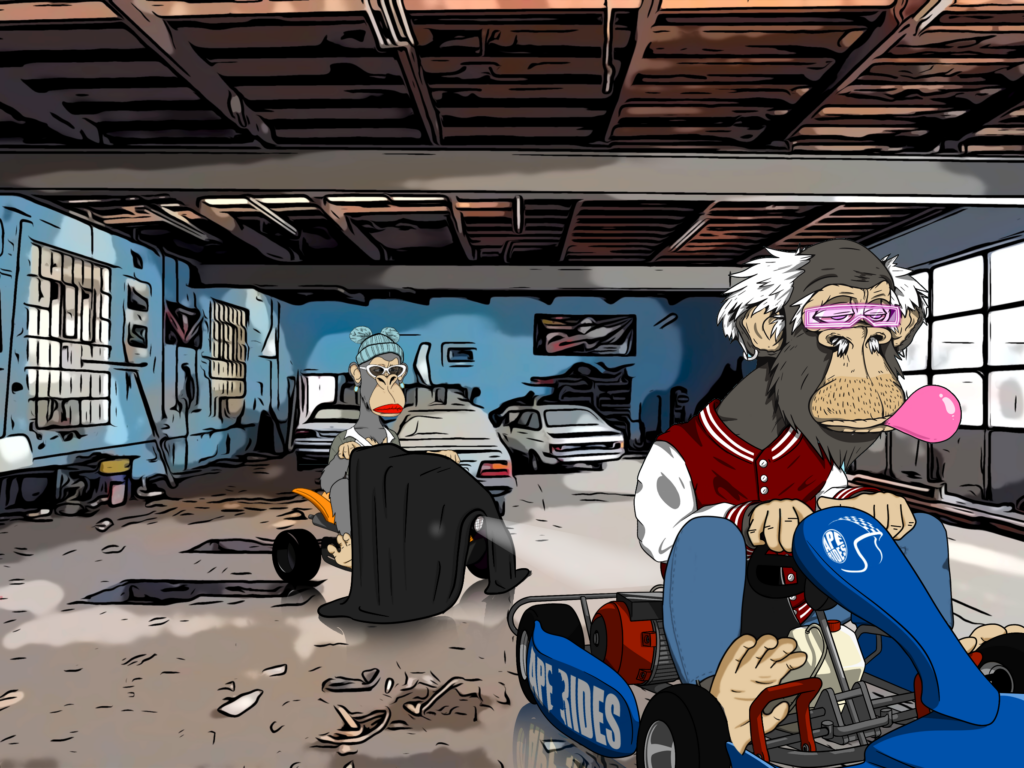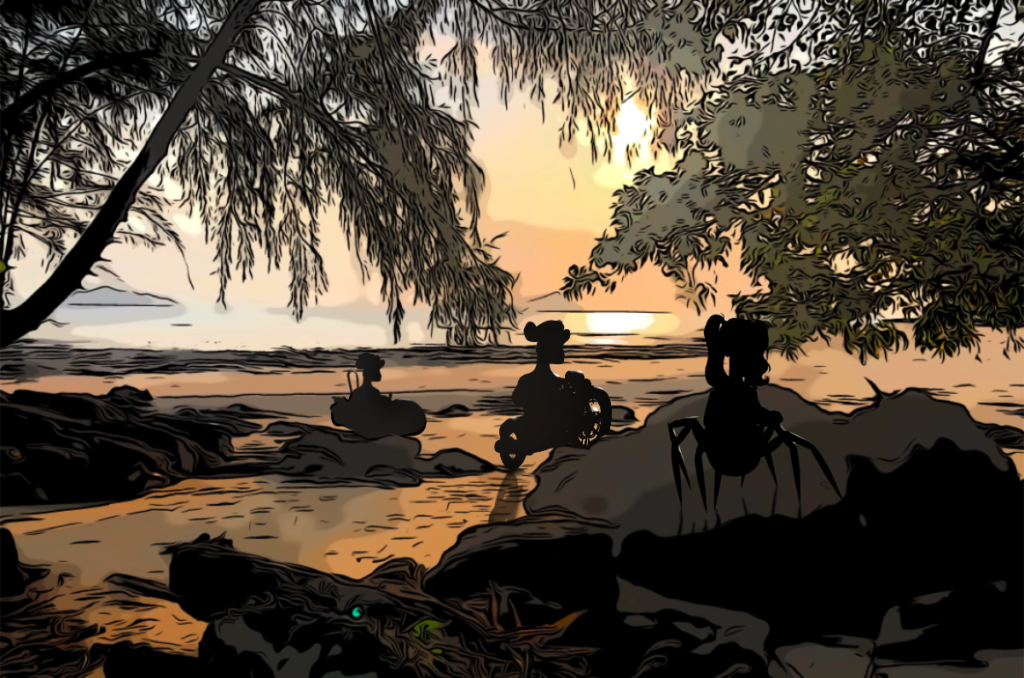 The Jungle is home to every Ape. Ape Rides are here to create a space where Apes can engage, team up, compete, and socialize with Apes from different tribes, in one ecosystem, on Rides that fit their individual personality. Phase 1 is complete with the launch of Ape Rides NFT minting, and Phase 2 is already mapped out to help grow the Jungle at speed.
A little appetizer, visualizing the basics of how it works. There are around 499,999,993 more possible combinations.
Your original Ape NFT image. You love it, we love it. Which is why we are not touching it.
The genuine Ape Rides NFT – hand-drawn in a 3k x 3x canvas. There are 5,000 of these.
With an Ape and an Ape Ride, you can mint your new Ape Rider NFT.
We have prepared two ways to create and mint your new Ape Rider NFT, both using our Garage Dapp:
1) Standard mint which is the quickest process
2) Degen wallet mint which does not require to connect your Ape-holding wallet
Do the transaction with your wallet which holds both the Ape Rides NFT and the Ape NFT. Connect to our Garage Dapp, and it will guide you through the process.
Do the transaction with your wallet which holds the Ape Rides NFT, and choose an Ape NFT from any other wallet. You will be prompted to enter the wallet address that holds your Ape NFT, and it will mint the Ape Rider into that wallet. To verify that you own the Ape-holding wallet, the Dapp will ask you to send 0 ETH from that wallet to the wallet that you are using for the transaction.

We have defined three phases for the development of Ape Rides, starting with the basics and building a scalable project for the long term growth of the Ape Rides ecosystem:
PHASE 1: LAUNCH OF APE RIDES
The primary goal of Phase 1 is to go live with something never seen before in the NFT space, technically or at this scale.To do this we are creating 5,000 unique Ape Rides and hand drawing the bodies of 80,000 apes from the top ape collections to make them all accessible from day 1, Mint is planned for early Q3 2022.
This website tells our story.
Ape Rides Story defined: Completed
Phas 1 Roadmap defined: Completed
Phases 2 and 3 drafted: Completed
Creating the artwork for all 5,000 individual Ape Rides.
50 base rides: Completed
All visible traits: Completed
Creating the artwork for 80,000 full-bodied Apes, ready to hop on any Ape Ride.
Bored Ape Yacht Club: Completed
Mutant Ape Yacht Club: Completed
Grandpa Ape Yacht Club: Completed
Desperate ApeWives: Completed
Stoner Ape Club: Completed
0xApes: Completed
Teen Rebel Ape Club: Completed
0XMutants: Completed
Creating the process to generate any of ~400 Million possible Ape and Rides combinations. This includes the ability to create respective Ape on Ride NFTs by the Ape Ride holders. Connect to our dapp and go!
UX Design: In Progress
Coding: Completed
Need a social media banner to show off with your Ape Ride? Connect to our dapp, select your Ape, select your Ride, choose your favorite scenery, and hit the generate button to create a banner image with your ape on your Ape Ride, colored in the original Ape background color.
Banner Artwork: In Progress
UX Design: In Progress
Backend: In Progress
See the entire history for each Ape, and each Ape Ride. See who else has driven your Ride in the past, what Ride has had most owners, and which Ape has had most Rides. Who is leading the pack? The Wall of Fame will give all the answers and much more.
UX design: In Progress
Coding: In Progress
PHASE 2: GETTING UP TO SPEED
After the completed mint of Ape Rides, we move to Phase 2. The goal of Phase 2 is to add more NFT collections and make Ape Rides accessible to over 100,000 Apes, and also deliver unique experiences by capturing early quick wins with personalization features. We aim to complete Phase 2 a couple of months after completion of Phase 1.
80,000 Apes are just the beginning. Plenty of Apes want to have access to Ape Rides and cruise the Jungle. We are adding the next 3 collections in Phase 2.
Update: Two new collections have been included already pre mint making us hit almost 100,000 apes: PAYC and LAYC. We're ahead of the roadmap.
Add flavor to your social media banner with custom sceneries, your Twitter handle or ENS domain, and of course your ape on their ride!
PHASE 3: SHAPING THE ECOSYSTEM
After delivering on Phase 2 roadmap items, we will move to Phase 3 to build an ever-growing ecosystem where Ape Rides holders engage across tribes in a rewarding space in which everyone can become a creator. To get the flavor, the following are some of the elements on our path. Everything beyond that will be shared as we progress. We are not putting a completion date behind Phase 3 as this will be an ongoing endeavor which we want to enrich with innovation as we progress.
A fancy sticker with your Twitter handle on it? Swapping that license plate for your ENS Domain name… However you decide to make your ride personal, we got you covered!
In Phase 3, we want to continue building an engaging, fun, and rewarding ecosystem where Ape Ride holders can team up across tribes and compete for benefits such as exclusive NFT drops for their Apes. Our vision is to open up the space for creators who want to contribute to and benefit from the space and make it more colorful – be it by creating new Ride features, or community experiences.
The Jungle is a habitat for hundreds of thousands of Apes – and we've seen dozens of other creatures sneaking around. In Phase 3, we want to introduce a process to make Ape Rides accessible to a sheer unlimited number of NFT collections over time, hundreds of thousands of NFTs. With 80,000 eligible Apes already at launch, we have confidence that this will work.
Finally, we want to continue writing the Jungle story together with the Ape Rides community. The possibilities are sheer endless, let's prioritize well.
Blame it on him – it was all his idea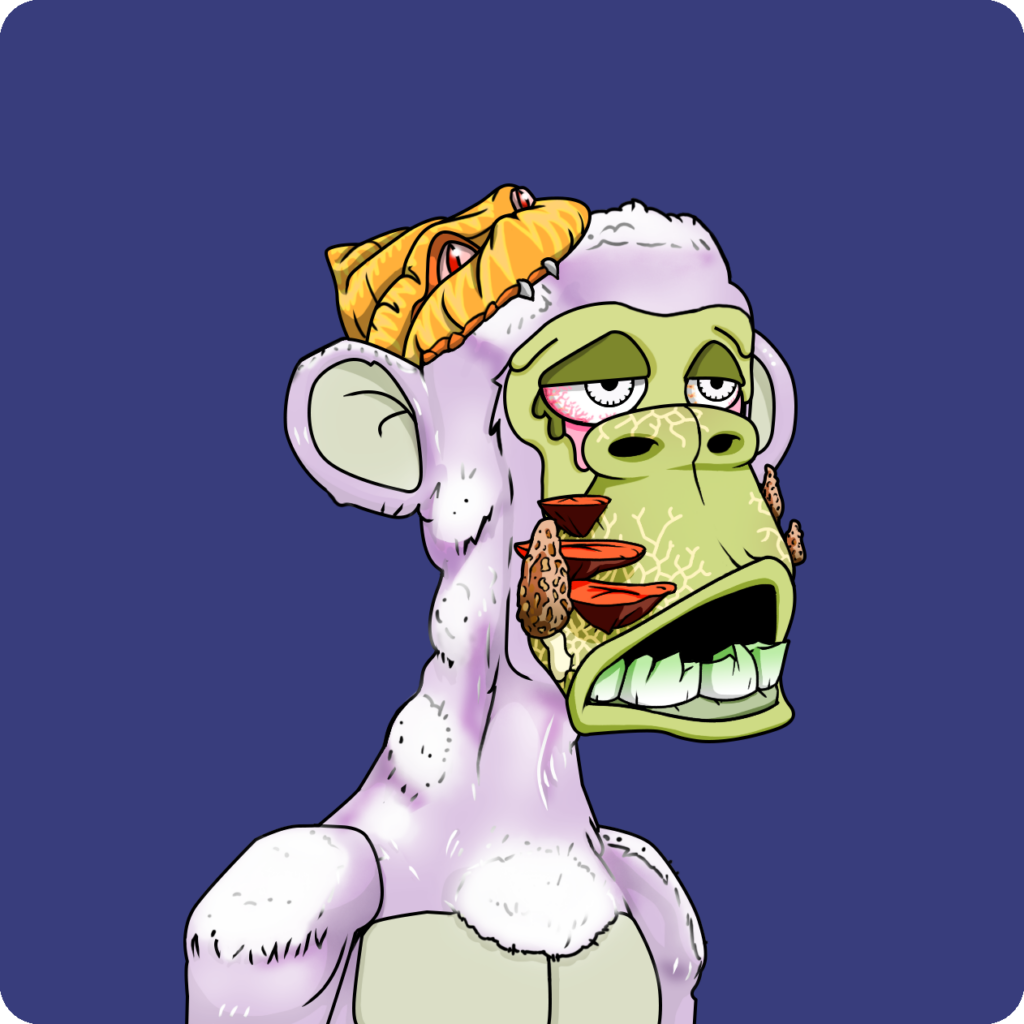 Elyott is the founder and one of the two artists of Ape Rides. In his professional career, he filled a number of leadership positions at global consulting, tech, and retail players, most recently a director role at a US-based fortune 500 tech compay. Crypto and arts being his passion, Elyott dedicated himself fully to the NFT space in late 2021. His mega accomplishment, let's face it, was building an incredible team for Ape Rides.
What Elyott loves most about Ape Rides is the uncompromized delivery of full body artwork for tens of thousands of Apes to make this project happen, a one of a kind effort in the NFT space. He is a bit obsessed with it.
A DEVELOPER THAT'S NOW AN ARTIST? HUH?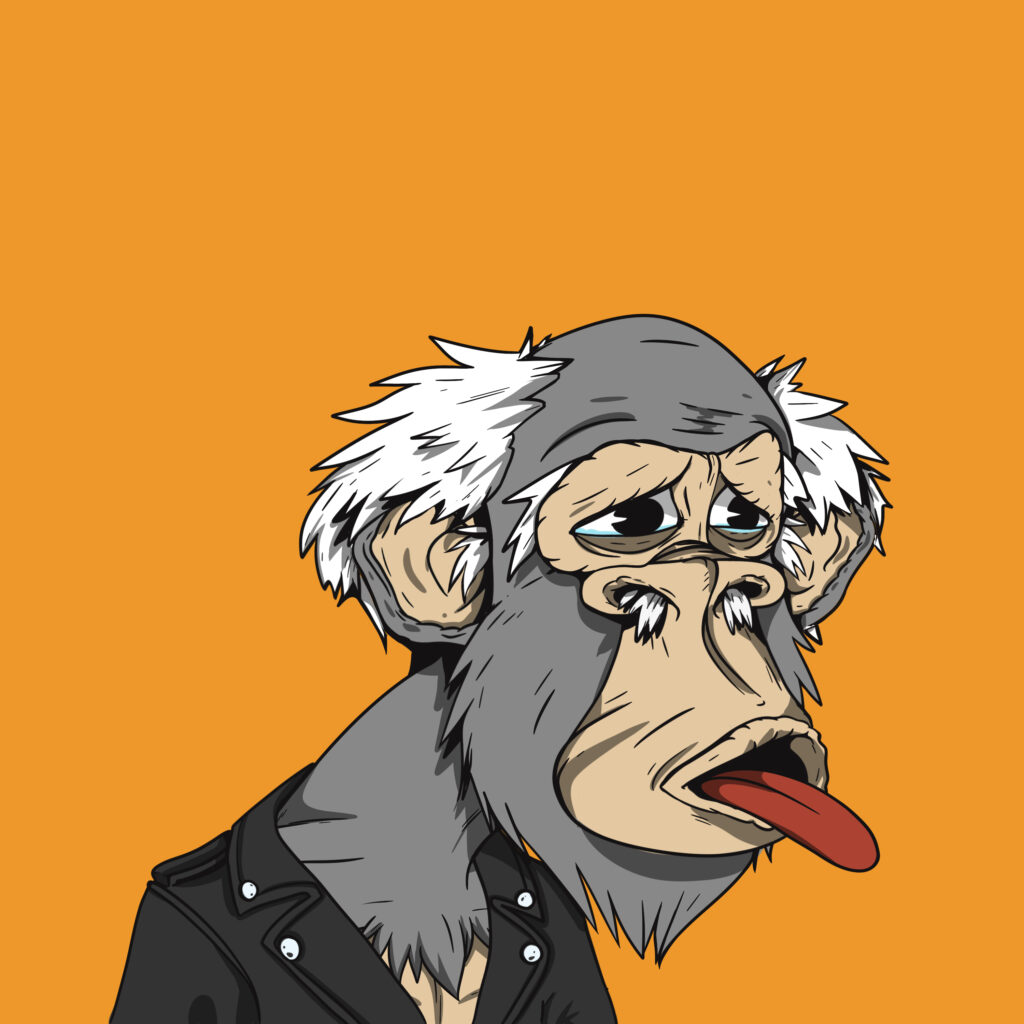 Dan has a 20 year career primarily in web development, UX and UI design working for a number of global financial services organizations. He's always been a keen and talented artist in his spare time, and after months of amazing feedback from drawing 1-of-1s for communities in the NFT space Dan's decided to take his passion to the next level with Ape Rides after meeting Elyott.
His primary role within Ape Rides is producing the art which we cannot wait for you to see. And with his development background and moderator roles within other NFT communities in the past he has a very versatile skill set and turns his hand to all aspects of the project to ensure its ongoing success after launch.
What Dan loves about Ape Rides is the fact that we are enhancing the apes you own and love with a previously unseen level of detail, not simply altering and losing your pfps identity like others before us.
THE CODING WIZARD BEHIND IT ALL
Matt recently graduated from university with a BscHons degree in Computer Science. He has over 5 years experience in building front end applications and since graduating has spent his time learning and developing decentralized applications for the blockchain.
His primary role within Ape Rides is to put your Apes on their Rides. He is developing the web applications and smart contracts that will be used to do this. Alongside this, Matt is here to support our community, spreading those jungle vibes.
What Matt loves about Ape Rides is the variability of the project. It is mind blowing that you can place multiple apes in multiple rides within seconds. Imagine what is next.
Suki has made a carreer from school teacher to photographer and media designer. She doesn't care how it looks as long as it's pretty. That's why the DAW pfp most obviously. Intrigued by NFTs ever since, she joined the Ape Rides team to help deliver the best web and UI design, like for example the background behind these lines of text. 
What Suki loves about Ape Rides is the incredible amount of work and sweat behind every detail, and how each piece of this complex endeavor fits together and results in one beautiful piece of unique art.

COPYRIGHT APE RIDES 2022. ALL RIGHTS RESERVED.